Mansfield, OH 's highly skilled Foundation Repair, Basement Waterproofing, and Crawl Space Encapsulation providers
Ohio Basement Authority has the skills to work on any basement in Newark that needs waterproofing, foundation repair, or crawl space encapsulation. Ohio Basement Authority is also a licensed General Contractor, General Home Improvement Contractor, and is licensed to repair and replace Sewer and Water Lines. Ohio Basement Authority is a local business with many years of experience. As a licensed contractor, we are able to provide fast installations as well as crews that skilled. Some of our Services include:
Bowing Walls
Sagging Floors
Stair-Step Cracks
Tilting Chimneys
Foundation Cracks
Garage Slabs
These are simple fixes with wall anchors, slab piers, I-beam wall braces, and helical deck piers. By fixing these issues your home will look better and you will add value to your home. We also offer warranties on a lot of our services. Why not join our hundreds of satisfied customers?
Waterproofing can help protect your Mansfield home from wet walls and floors!
Waterproofing your home is a great investment. A wet basement leads to mold, rot, musty odors, and structural issues. Home buyers see these things as red flags, and you should too. However, there is no need to panic, this is an easy fix, and will be much cheaper than doing exterior waterproofing. The French drain system was designed to fit a variety of households. These systems can be combined to keep your floors dry and collect any water that's running off of your walls. Or by using our award winning sump Pump, you are able to pump any amount of water out of your basement to prevent flooding. We have a variety of products to fit a variety of needs.
Does your foundation have cracks, or bow?
Foundation repair can be a necessity to your home. Foundation problems can just get more expensive the worse they get. We have products that will keep your home safe from any further damage. A cracked wall is no match for Carbon Fiber straps. These straps will also prevent any more cracks from forming. If you have bowing foundation walls in your Mansfield home, I-beams may be the best solution for you. Our technicians are skilled to fix: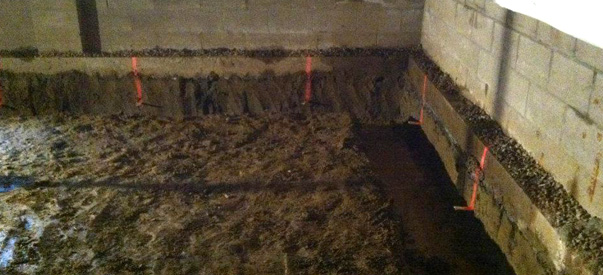 Your Mansfield home's crawlspace could be easily converted into a basement with our technology.
Settling Foundations
Sagging Crawl Spaces
Floor Cracks
Uneven Floors
Heaving Foundations
Sticking Windows and Doors
Collapsing Retaining Wall
Expert Concrete Repair With PolyRenewal®!
We also offer concrete leveling so you can enjoy your driveway, sidewalk or patio again without worry. In the past, contractors relied upon mud jacking (also known as slab jacking, concrete lifting, concrete raising, grout pumping and slab leveling) to level concrete that had settled over time. This entailed pumping concrete slurry under the settled slab to raise it and hoping that the settlement wouldn't continue. At Ohio Basement Authority we use PolyRenewal® because it is a fast & efficient method to raise sinking concrete. This simple foam injection can stabilize your concrete slab for years to come!
Afraid of your musty crawl space? We aren't!
Crawl spaces are dirty, smelly, and most of the time, creepy places. They can often get flooded and waste energy without proper insulation which can result in high heating and cooling bills. Without a properly insulated crawl space, you could be wasting money on heating and cooling. Ohio Basement Authority can give you the clean crawl space you deserve. Crawl space Encapsulation prevents anything from growing on the surface and comes with a 25-year warranty against rips and tears. This white barrier protects you and your home. Have you also ever thought about transforming your crawl space into a space that is livable? With our technology we can turn your crawl space into a basement that's worth finishing. Let Ohio Basement Authority do a free inspection and estimate for your Mansfield home today!